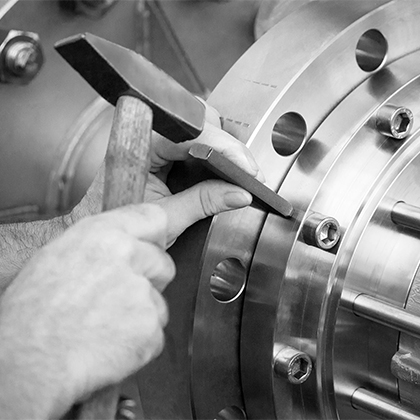 Pumps are our passion
Lederle-Hermetic looks back on a long and eventful past as a manufacturer of pumps. Established in 1866 as LEDERLE, the company develops on a continuous basis, and in 1954, presents the first hermetic centrifugal pump with a canned motor, the so-called canned motor pump. Since 1969, these pumps have been successfully manufactured and sold under the company name HERMETIC-Pumpen GmbH.
HERMETIC-Pumps Singapore Pte. Ltd. is the youngest member in the HERMETIC – Group. The subsidiary will strengthen HERMETIC's operations in South East Asia and will play a key role in the company's expansion plans for the region.
HERMETIC-Pumps Singapore Pte. Ltd. is a wholly owned subsidiary of HERMETIC-Pumpen GmbH in Germany and has been established in 2014 as a sales and marketing company for all HERMETIC products as well as providing spare parts for all products of the HERMETIC-Pumpen GmbH. Together with our certified partners we are providing in-house repair and workshop services for the complete product range of HERMETIC.
HERMETIC-Pumps Singapore Pte. Ltd. has a team of experienced and qualified employees who are committed to the goals and targets of HERMETIC – Group policies to ensure that HERMETIC-Pumps Singapore Pte. Ltd. provides for quality service and project and sales consultancy for all HERMETIC products required.
HERMETIC-Pumps Singapore Pte. Ltd. aims to offer each customer tailored solutions and products and to be a trusted regional partner who can be reached easily and quickly.
We aim to be among the selected key players for our customers in the markets by providing quality products and reliable services for the interest of both our clients as well as shareholders.
In the HERMETIC – Group, we want to be close to customers to ensure our products and services fully meet customers' expectation. In HERMETIC-Pumps Singapore Pte. Ltd., our team of experienced engineers works hard to ensure that we offer excellent service and most competitive products for our customers in the South East Asia Region.